Ryman Premier League

29th March 2003

Harrow
Borough

1 - 2

Canvey Island

Valenti 38
H/T 1 - 1
Att: 316
Gregory 26
Berquez 87
Match Highlights
| | | |
| --- | --- | --- |
| Harrow Borough | | Canvey Island |
26
GOAL - Gregory
Fitzsimon - BOOKED
36
BOOKED - Chenery
Valenti - GOAL
38
Valenti - OFF
Charles - ON
59
Dyer - OFF
Watson - ON
61
Fitzsimon - OFF
Yhdego - ON
73
74
OFF - Dobinson
ON - Berquez
78
OFF - Duffy
ON - Brayley
87
GOAL - Berquez
Osborn - BOOKED
88
89
OFF - Boylan
ON - Davidson
BERQUEZ DOES THE BUSINESS
(JUST IN TIME)
Ollie Berquez came on as substitute today and, just as the game looked destined to finish on level terms, he connected with a Boylan cross from the right and managed to push Canvey's unbeaten league run to a terrific 17 games. This was an important goal as news was buzzing around the ground that Aldershot were trailing at Hayes. It was a good goal and well deserved. The Yellow Army was beginning t wonder just what Canvey had to do in order to get the winning goal. They had dominated the whole of the second half but, somehow, the ball just wouldn't go in. Until Ollie arrived on the scene, that is.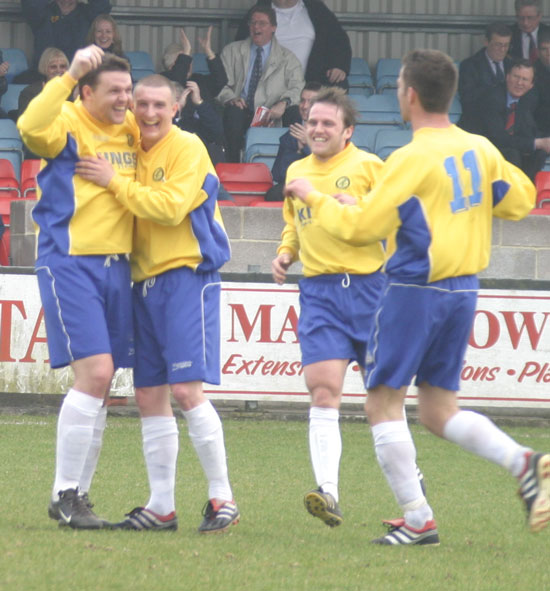 The Gulls started the game well enough and it looked as if Boro would be putting 9 men behind the ball in an attempt to thwart the entertaining and successful Canvey squad. But as the game developed, it became clear that Canvey were not firing on all four cylinders. Neil Gregory was working so hard but rarely made the kind of deft flick-ons that have set up so many chances in earlier games. Similarly, Chris Duffy seemed to struggle against a diminutive No. 2 Daniel Dyer who used Duffers own height advantage against him. This meant that the scoring opportunities that have been so plentiful so far this season, almost dried up.
But not quite. There was one golden scoring opportunity in the 14th minute when Jeff Minton sent over the sort of cross that Greggers has been burying this term. The ball landed beautifully for the big No. 9 to smash home from the far post but on this occasion it went just wide. But at least Canvey were building their attacks from the back and trying to play football, unlike Harrow who resorted on so many occasions to the big HOOF upfield and run onto it. It did bring them some success and they did manage to force three corners in a very short spell, but it never looked really threatening.
On 26 minutes Neil Gregory scored his soppiest goal of the season. He took possession some 25yds out and with nobody making any real space, he decided to take a shot at goal. Sadly he mis-hit his shot and the rather tame ball looked to be going straight to Matthew Ferguson. The 'keeper appeared to do everything by the book, getting down early, putting his body behind the ball and spreading his hands wide. Incredibly, he failed to stop the ball and could only look on with horror as he knocked it sideways and into the far corner of the net.
Harrow took the deficit seriously and decided to step their game up by a notch and suddenly started to look dangerous on their assaults forward. Some of their passing was slick and sweet and that is how they built their goal. Pushing the ball from one player to another in a tip and run style more usually seen at Park Lane, they moved into the Canvey half and then into the Canvey penalty area. The lively Fabio Valenti found himself with only Potter to beat, and that's just what he did.
The first half continued in a fairly even handed way, Canvey looking to be more in control of the midfield but the forwards unable to cash in, whilst Harrow looked to be dangerous on the break and often forcing the visiting defence to get back and clear - something they didn't always do convincingly.
Half time Harrow 1 Canvey 1
Whether Canvey heard the half-time results in the dressing room, I don't know, but they came out for the second session as if they had just been told that Shots were trailing. They looked sharper and more decisive. There was more ball to feet and better use of space. Lee Boylan looked dangerous every time he got the ball and he was causing all sorts of nightmares for the stretched Boro defence.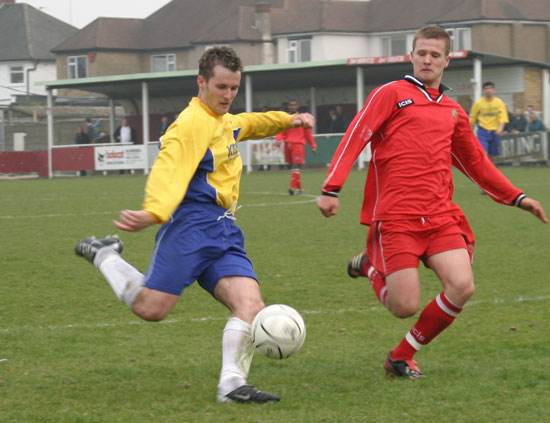 Both No. 4 Richard Goddard and man of the moment No. 6 Dean Marney looked to be in control of their own penalty area but there did seem to be a lack of confidence in the 'keeper and this was causing some concern when balls had to be cleared in a hurry. Jeff Minton was quick on the ball and very reluctant to ever lose it whilst new boy Mark Graham was providing some superb service from the right flank. This combination meant that Ferguson's goal came under a terrific amount of pressure. Kevin Dobinson came closest to breaking the stalemate when, on 55' he picked up a ball on the edge of the penalty area and made a run from the left that took him past two defenders and almost into the 6yd box. He waited until he saw the whites of Ferguson's eyes before unleashing a wicked shot that forced and equally wicked save. The ball was knocked out as far as Mark Graham who hit the ball on the full volley but was unlucky to see it blocked and sent away to safety.
Canvey had woken up and it looked good. Some of the passing was brilliant but it was the finish that was missing. And when a shot did go in, it usually found Ferguson on top form. Like the time when John Kennedy put in a corker of a shot that the 'keeper could only drop to the feet of Lee Boylan, but the angle was impossible and Boylan could only hit over the bar.
Once again Boro were forced into a long lob style of play but with both Ben Chenery and Steve Ward on top form, there were very few saves for Danny Potter to make. What Potts was asked to do was to hit back-passes upfield quickly and accurately - something he did extremely well.
The chances kept coming in, the Boro defence kept clearing. Surely something would go in, eventually? Kevin Dobinson appeared to take something of a knock and was called off, to be replaced by Ollie Berquez. Then Chris Duffy, who (it has to be said) was not enjoying the best of days, was replaced by Bertie Brayley. And still the pressure was kept up.
Eventually, with the game moving into its dying moments, Minton and Boylan combined well out on the right and the ball was crossed to Ollie Berquez. At Maidenhead, Ollie could have snatched the game at the same stage but hit over. Today, to make amends, he blasted home and took the game. The fans went wild both in excitement and relief. Harrow sensed that they were beaten but, with a few moments remaining, they humped everything forward but to little or no effect. The Canvey defence knew that all they had to do was hold on and they would snatch three points back from the Shots.
Looking forward, can Canvey put another four goals past Hendon on Tuesday and maintain their unbeaten run? It's pointless Aldershot losing or drawing if Canvey can't capitalise on the situation. It's all looking good for a fantastic evening on 15th.

Photos: Click on the right and left arrows above to scroll through the images. Click on any thumbnail to view it in a larger format. There are 14 images to view. If the arrow is dark there are more images to the right or left. Pictures are © Ian C. Walmsley / First Images 2003.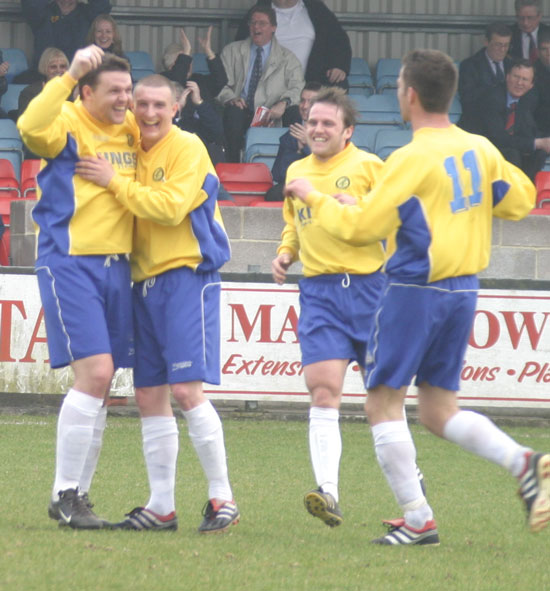 John Kennedy, Mark Graham and Kevin Dobinson run to congratulate Neil Gregory on scoring Canvey's opener.
Click on the right and left arrows above to scroll through the images. Click on any thumbnail to view it in a larger format. There are 14 images to view.
Pictures are © Ian C. Walmsley / First Images 2003.
Match Report by Merv. Pictures by Ian
Teams
Harrow Borough
Matthew Ferguson
Daniel Dyer
Clemente Lopez
(c) Richard Goddard
Adam Everitt
Dean Marney
James Osborn
Ross Fitzsimon
Pat Gavin
Fabio Valenti
Richard Clarke
Subs
Brian Haule
Robert Charles
Marvyn Watson
Keita Karamoko
Eseyas Yhdego

-
1
2
3
4
5
6
7
8
9
10
11
*
12
14
15
16
17
Merv's Man of the Match
This was a difficult one
Lee Boylan
Weather Conditions: Dry and bright.
What did you think of today's match?
Who was YOUR man of the match?
Any comments at all on the match?

Share your thoughts on the
Discussion Board